Beneficial & Beautiful Home Decor
Firework look you'll never get tired of. Use it as a night light in your room! Bamboo wood grain designed base with a slip-proof bottom. Perfect for relaxation, yoga, and sleep!  Enjoy the health benefits of essential oils and the beauty of the night glow.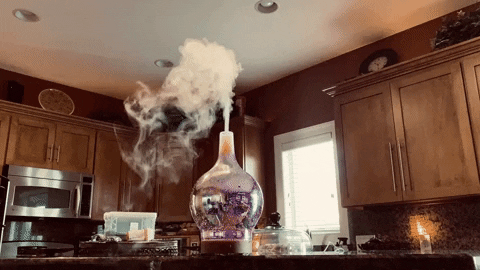 Fireworks Diffuser Functions and Features
Magical 3D Fireworks Design with 6 Color Changing: Exquisite outlook with 6 color changing will highlight your household decoration. It is a new model of the combination of electrical and decorative functions.Truly shows off the high-quality design with its unique 3D Fireworks effect.
Sufficient diffusion: Ultrasonic vibrations silently create an ultra-fine mist, delivering maximum humidifying. It helps you reap the benefits of essential oil thoroughly.
Relax and Treat Your Body: Relax and enjoy the therapeutic benefits of a steady essential oil mist that fills the air. Use with different essential oils to relax, relieve stress, and fight allergy, cold or flu symptoms.
Quiet and Peaceful: The choice of light sleeper. This diffuser works very quietly so that you can be intoxicated in the charming aroma without disruption or noise pollution.
Safe and Convenient: Auto Shut-Off and Ultrasonic Technology keeps you from worrying about anything-just relax and enjoy. Perfect to place it in your home, home office, bedroom or kid's room, or you can also use it for more business-oriented applications such as in a yoga studio, spa, or hotel front desk area.
Our Firework Diffuser looks like a frozen firework and will put any other diffuser to shame! A changing array of colors as its LED lights shift through 6 mesmerizing colors providing hours of selfless relaxation. It lasts 4-8 hours before Waterless Automatic Shut Off occurs, but you can set a 1-2hr timer. Feel free to add oils, and start with just a few drops. We definitely recommend peppermint, especially around winter time! 
Relaxing & Soothing For Better Sleep
Easy To Clean 🧼
High Quality Strong Mist Vaporizer 🌬️
3D Illuminating Glass Cover 💎
Essential Oils and Aromatherapy Diffusers have a variety of benefits including helping you sleep, elevating your mood, easing breathing, eliminating pain, helping with cognitive function, warding of illness, repealing inspects, and cleaning your home! Our Firework diffuser is the perfect, natural relaxation treat. Our team here at ReallyCoolShop™ work hard to provide the most beautiful diffusers on the market!
If the color changing feature is too bright and keeps you up at night, or is just too distracting to work next to, just press the LED Light Button on the right until you find your favorite color or completely turn off the light and let it run normally.