✈️ FREE SHIPPING FOR ORDERS OVER $49 ✈️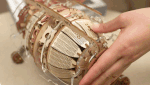 Introducing new collection of Time Art 3D Wooden Puzzle⏲️📅 a perfect combination among the beauty of machinery, scientific exploration and art works wooden puzzles. A fabulous design requires meticulous attention detailed perfect design 3D wooden puzzle as well as a big challenge for model builders👨‍🔧👩‍🔧! Three dimensional wooden puzzle, a perfect home decor with exquisite eye-catching piece and also creating unforgettable times of working together on projects between you and your kids! This Best-Seller is 40% off for the next few hours.
CAPTIVATING HANDCRAFTED DESIGN. Sturdy design integrates the beauty of machinery and scientific exploration to meet the eager-to learn spirit of the intellectual enthusiasts who advocate science and technology, freedom and creativity. The interlocking mechanisms and high-quality DIY craft can be assembled without glue which value for money!
A TIMELESS GIFT. Great as Christmas, Valentine's Day, Father's Day, Mother's Day, Birthday or Anniversary Gift. Perfect gift for decorative your lovely home or office and handicraft lovers. A truly unique wooden display on your desk, shelf or nightstand
BENEFITS. Develop several skills such creativity, problem solving organizing skill, classification skill etc with fun. The complexity of this kit will boost your child creativity, bring families together for hours to create something truly unique to display that look captivating in the finished product. A super awesome bond, great family ties. Believe us, this is an unforgettable family time, you will be surprised by the child's hands-on talent.
Material: Non-toxic environmental friendly smooth wooden(no residue smoke burns) board. A perfect idea for handyman or anyone who enjoys woodworking.
Finished Size:
1. Time Engine Calendar(250pcs) - 84.6 X 57.1 X 57.5 inches (215 X 145 X 146cm)
2. Zodiac Wall Clock(168pcs) - 13.2 X 11.6 X 2.2 inches (335 X 295 X 55mm)
Package Size:
1. Time Engine Calendar - 12.4 X 9.0 X 2.2 inches (306 X 229 X 26mm)
2. Zodiac Wall Clock - 18.5 X 12.1 X 2.2 inches (470 X 309 X 55mm)
Includes: Exquisite nice-looking packaging with pre-cut wooden sheets and step by step picture Instruction(see below illustration for more details)